Conservancy Blog
Software Freedom After Trump
by Karen Sandler on December 29, 2016
I'll say it: it's been rough since the election. Like so many other people, I was thrown into a state of reflection about my country, the world and my role in it. I've struggled with understanding how I can live in a world where it seems facts don't matter. It's been reassuring to see so many of my friends, family and colleagues (many of them lawyers!) become invigorated to work in the public good. This has all left me with some real self-reflection. I've been passionate about software freedom for a long time, and while I think it has really baffled many of my loved ones, I've been advocating for the public good in that context somewhat doggedly. But is this issue worth so much of my time? Is it the most impactful way I can spend my time?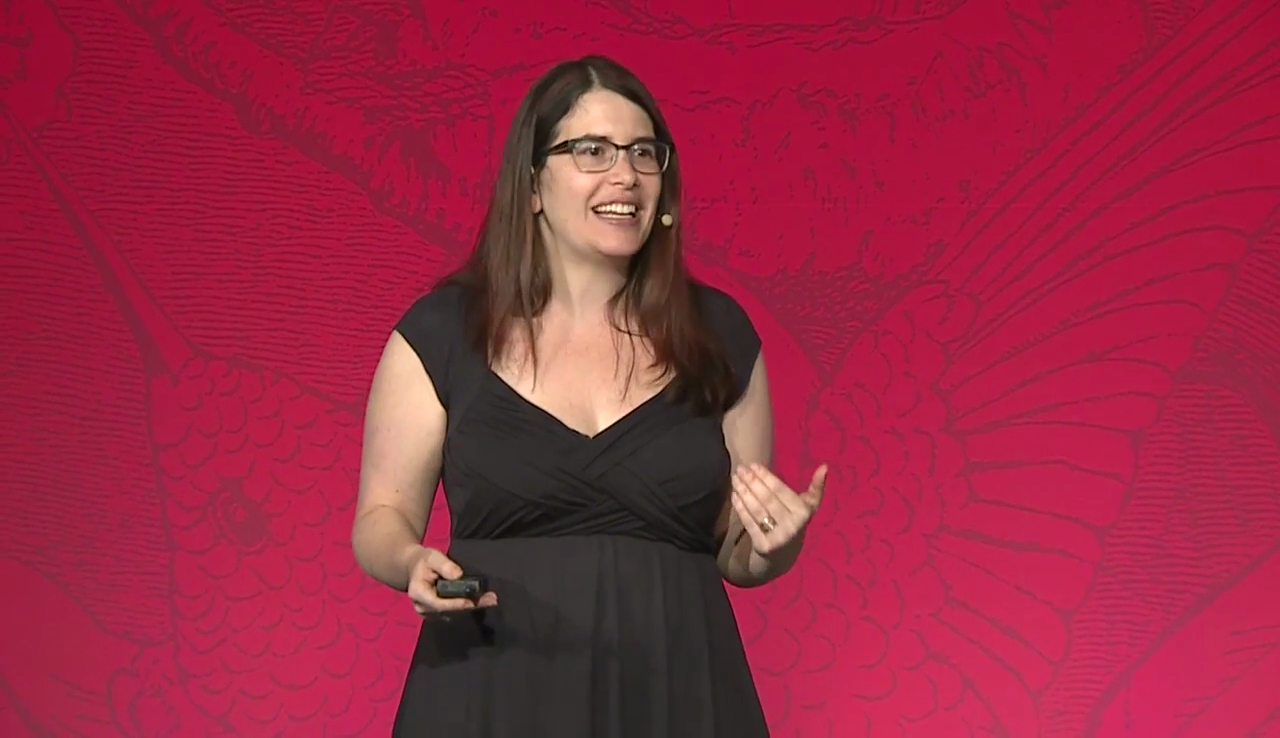 Karen Sandler delivers her keynote at this year's OSCon EU
I think I was on some level anticipating something like this. I started down this road in my OSCON EU keynote entitled "Is Software Freedom A Social Justice Issue," in which I talked about software freedom ideology and its place relative to social justice issues.
This time, like when I was doing the soul searching that led to the OSCON EU talk, I kept coming back to thinking about my heart and the proprietary software I rely on for my life. But what's so powerful about it is that my heart is truly a metaphor for all of the software we rely on. The pulse of our society is intertwined with our software and much of it is opaque from scrutiny and wholly under the control of single companies. We do not have ultimate control of the software that that we need the most.
After all of this deep reflection, the values and the mission of software freedom has never seemed more important. Specifically, there are a few core pieces of Conservancy's mission and activities that I think are particularly relevant in this era of Trump.
Defending the integrity of our core infrastructure
One the things I've focused on in my advocacy generally is how vulnerable our core infrastructure is. This is where we need software freedom the most. We need to make sure that we are doing our best to balance corporate and public interests, and we need to be able to fix problems when they arise unexpectedly in our key systems. If we've learned anything from Volkswagen last year, it's that companies may be knowingly doing the wrong thing, covering it up while also promoting corporate culture that makes it extremely unlikely that employees may come forward. We need to have confidence in our software, be able to audit it and be able to repair it when we detect vulnerabilities or unwanted functionality like surveillance.
Software freedom, and copyleft in particular, helps us keep the balance. Conservancy is dedicated to promoting software freedom, defending our licenses and supporting many of our member projects that are essential pieces of our infrastructure.
Transparency
It may feel like we've entered into a world where facts don't matter but we at Conservancy disagree. Conservancy is committed to transparency, both in the development of software that can be trusted, but also in our own operations. We're committed to helping others understand complex topics that other people gloss over, as well as shedding light on our own financial situation and activities. (This end-of-year giving season I recommend you carefully read the Form 990s of all of the organizations you consider donating to, including ours—check out how money much the top people make and think about what the organizations accomplish with the amount of resources they have available to them.)
Diversity
While hate and exclusion are on the rise, it's more important than ever to make sure that our own communities do the right thing. I'm proud to have Conservancy host and to also personally help run Outreachy, making sure that many of the groups that are now feeling so marginalized have opportunities to succeed. Additionally, software freedom democratizes access to technology, which can (in time) empower disenfranchised communities and close digital divides.
Because together, we get it
Perhaps most importantly, unethical software is something that everyone is vulnerable to, but most don't understand it at all. You need a certain level of expertise just to understand what software freedom is let alone why it's so important. There are many things we can and should work on, but if we don't keep our focus on software freedom the long term consequences will be dire. Software freedom is a long-term cause. We must work towards sound infrastructure and look after the ethical underpinnings of the technology we rely on, because if we don't, who will?
We can't just be reactive. We have to build the better world.
Please join me in doubling your efforts to promote software freedom. Help Conservancy continue its important mission and become a Supporter now.
Next page (older) » « Previous page (newer)
1 2 3 4 5 6 7 8 9 10 11 12 13 14 15 16 17 18 19 20 21 22 23 24 25 26 27 28 29 30 31 32 33 34 35 36 37 38 39 40 41 42 43 44 [45] 46 47 48 49 50 51 52 53 54 55 56 57 58 59 60 61 62 63