Conservancy Blog
Git Merge and FOSDEM 2017!
by Karen Sandler on February 17, 2017
For me, FOSDEM this year started two days early with Git Merge, the annual Git conference. Git Merge is organized by GitHub, and so far in all three years of its organization the conference has donated the proceeds from ticket sales to Conservancy! I'd been hoping to get to Git Merge one of these years, so I was very excited with the organizing team asked me to do an talk introducing Conservancy.
I got to kick off the conference, and introduced myself by explaining how investigating my heart condition and defibrillator caused me to become passionate about software freedom. I then delved into what Conservancy does and in particular talked about some of the work we've done with Git. The talk had a good impact, and all day long I was able to speak with people who were excited about Conservancy and thinking about the ethics of all of our software. It's always especially thrilling to speak at our member projects' conferences. I love meeting up with leadership committee members and also putting faces to the names that we see go by while monitoring the activities of our projects.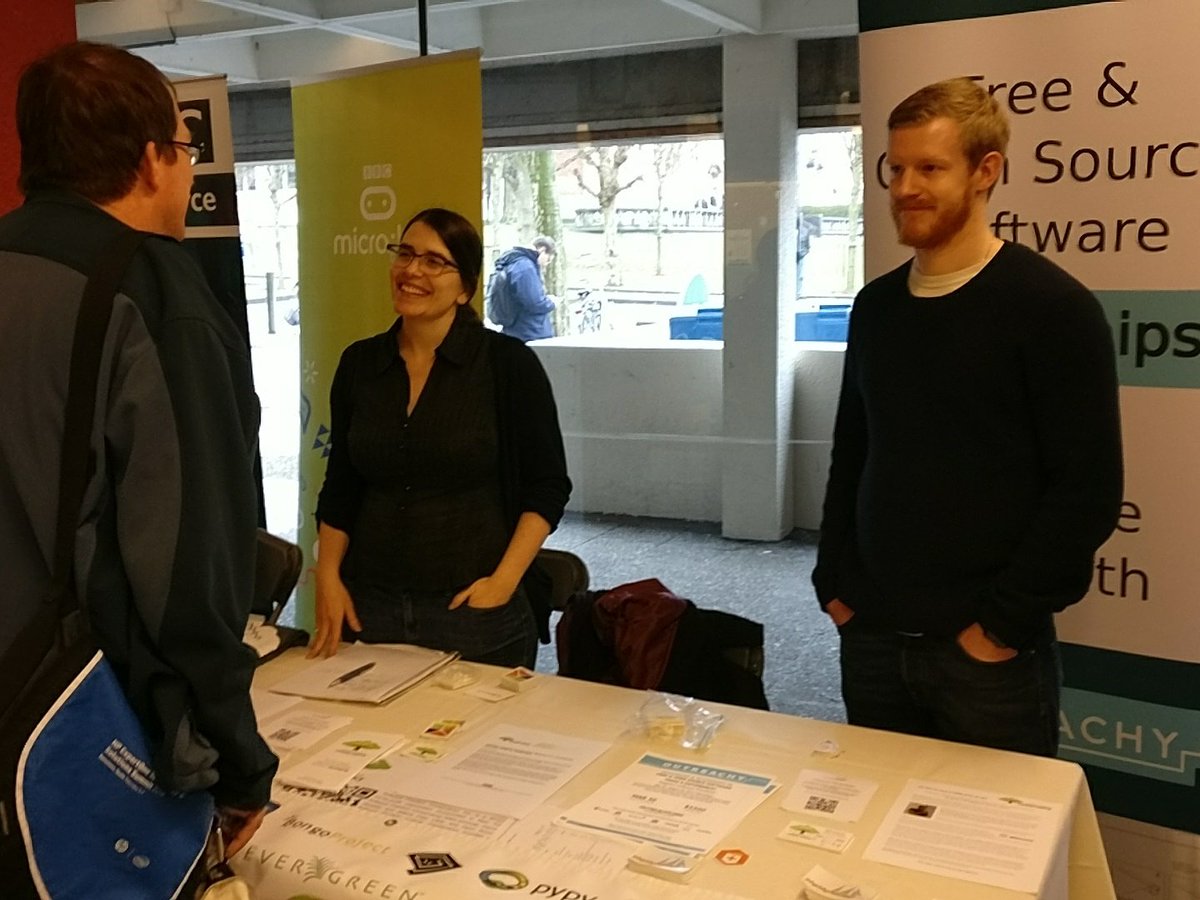 Photo by Neil McGovern
FOSDEM is an extraordinary conference. A two-day whirlwind of activity, there are many more worthwhile things there than any one person can get to. The whole conference is completely community run and organized. Companies can buy neither stands nor talks in any of the devrooms, which keeps the quality really high. Thousands of people attend FOSDEM and there are great conversations happing everywhere. I find it incredibly difficult to balance seeing people, attending talks (even in my own devroom) and keeping the Conservancy stand running.
Fortunately for us, the FOSDEM organizers were very thoughtful and placed the Conservancy stand just across the hallway from the Legal & Policy devroom, which Bradley and I help organize. I spent most of the time running between the short distance between the two.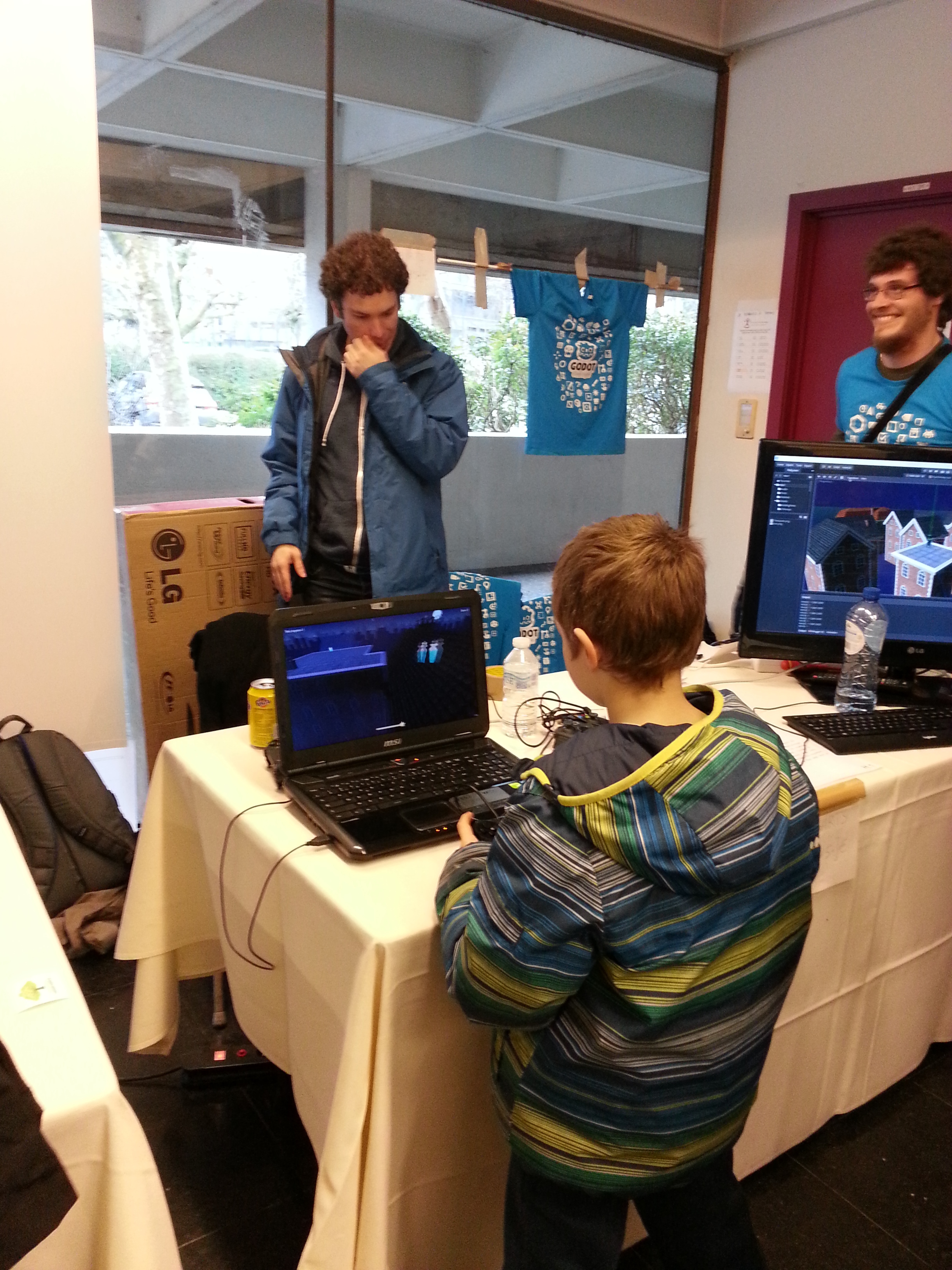 One of the major highlights for me was being at the stand with volunteers. Mike McQuaid (of Homebrew, another member project) and Spencer Krum both spent significant time at the booth loudly heckling people into becoming Conservancy Supporters. Stefan Hajnoczi (of QEMU, also a member project) took a quieter but no less dedicated approach. Michal Čihař spent a huge portion of his conference in our booth helping to promote phpMyAdmin and Conservancy. Having people who are giving of their time already so eloquently advocating for our organization was powerful, and helped me feel so energized about Conservancy. We'd launched our match donation that day, and I think it generated a lot of excitement at the booth. We also were lucky to be right next to the stand for one of Conservancy's newer projects, the Godot Game Engine, which was very fun and convenient.
The Legal & Policy devroom is always fantastic, and while I wound up at the stand and in meetings for much of my time at FOSDEM, I still participated enough to really get a lot out of it. I spoke on a panel about permissive/dismissive licenses and another about fiscal sponsorship entities in Europe. FOSDEM video volunteers have been great, and video is already up for most of the sessions. A huge shout out to Tom Marble who does most of the heavy lifting in organizing the room. There are a lot of great places to discuss imporant legal issues but the FOSDEM devroom is one of my favorites. The talks this year were particularly interesting. I'm looking forward to catching up on the videos of the ones I missed.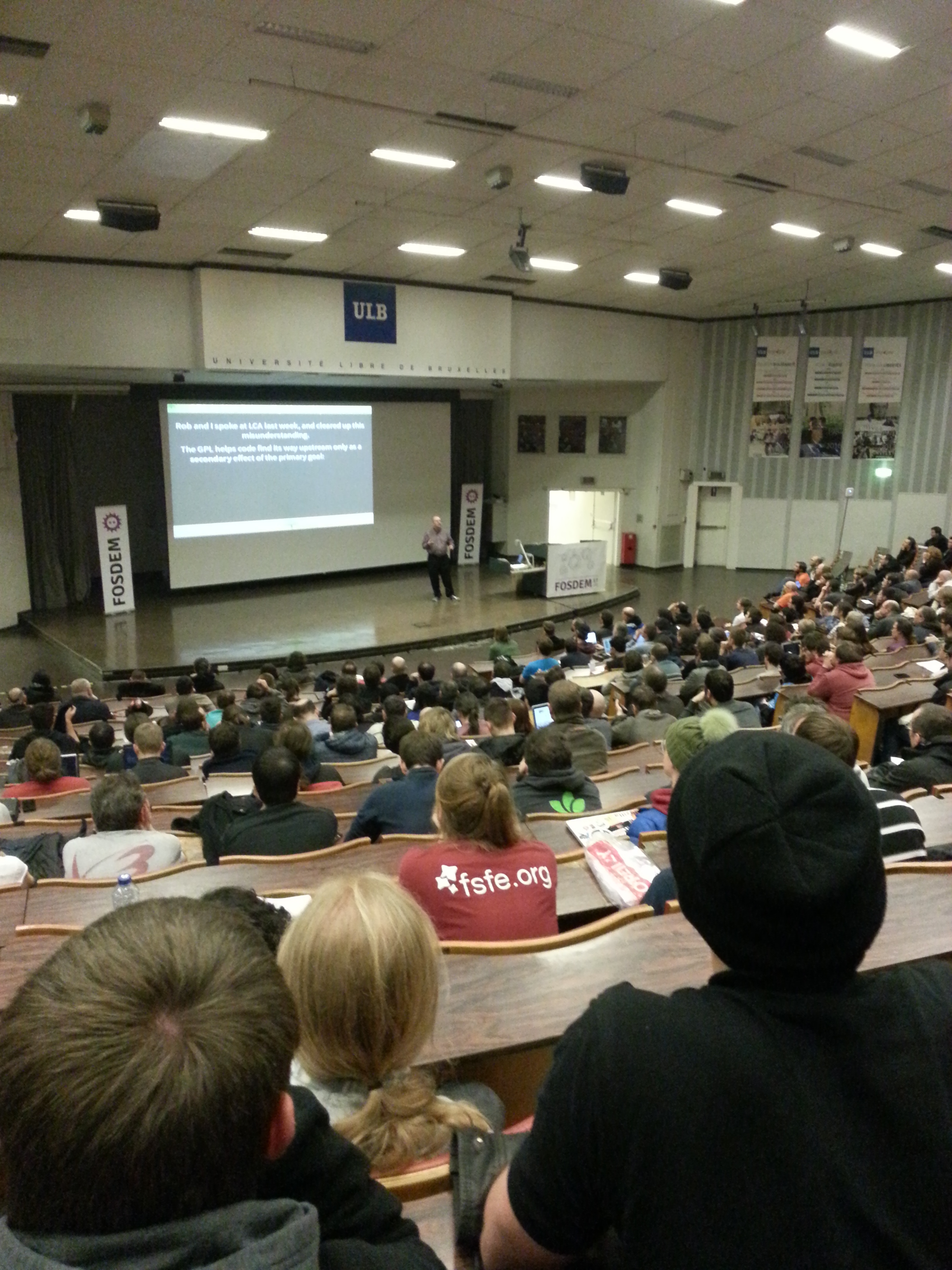 I also really enjoyed Bradley's keynote (we closed the stand down a little early so that we could all attend). Bradley is such an inspiring speaker, and I think he distilled a lot of the major issues facing copyleft and copyleft compliance.
I think part of the magic of FOSDEM is that it's contained in a single weekend. While it's inevitable to feel like you wished there were more time to catch up with all of the exceptional people who attend, and it's exhausting to have no downtime over two days (I even missed the GNOME beers!) it's just the right amount of time to fully immerse yourself in all things free software.
Next page (older) » « Previous page (newer)
1 2 3 4 5 6 7 8 9 10 11 12 13 14 15 16 17 18 19 20 21 22 23 24 25 26 27 28 29 30 31 32 33 34 35 36 37 38 39 40 [41] 42 43 44 45 46 47 48 49 50 51 52 53 54 55 56 57 58 59 60 61 62