"Anyone???"
by Karen Sandler on August 24, 2021
We often talk about how frustrating it is to obtain source code that is supposed to be available under copyleft licenses. We not only try to get source code for our own devices, but we also are inundated with requests from developers all over the world who seek source code to modify their technology in ways they should have a right to do. By the time someone sends a complaint to us, asking for our help, they've already tried and failed to ask the company to do the right thing. Usually they are simply ignored by the company but sometimes companies introduce all kinds of weird procedures in the hopes that if they make it just difficult enough that the requestors will go away.
We've seen these obstacles include all kinds of unreasonable forms, beyond a simple email address to make the request. A common requirement is that the request be sent to a particular paper address, by registered mail, and we've even seen the company specify particular kind of storage device to be included in the mailing. Companies erroneously try to require that requestors include personal information, including detailed information on the device and its purchase. It's hard work, but we're proud that we continue to apply pressure to these companies and never give up our quest to make sure everyone follows the rules so that developers can have access to the software on their devices that the GPL ensures. It also often feels like lonely work. But not today.
DevOps Engineer, ptrcnull (Patrycja), tweeted last week about a frustrating email she received from Umidigi, a Chinese smartphone manufacturer, which told her that if she wanted access to the source code she was rightfully requesting under GPLv2, she needed to come in person to Umidigi's offices in Shenzhen. And that (by the way) the office was only Chinese speaking.
Luckily, one of ptrcnull's followers, looped in Naomi Wu, a well known Chinese maker and hacker, who decided to go down to Umudigi's offices and take them up on the offer.
As a Cyborg Lawyer who spends a good portion of her time trying to compel GPL compliance, I nearly flipped watching Wu (who calls herself Sexy Cyborg) marching into Umidigi trying to find anyone who could help her get the source code. It's the physical manifestation of the kafkaesque experience that companies set up for those exercising their rights under GPL. I couldn't believe it when I clicked on it from a link in a mastodon toot from Harald Welte, who has also done quite a bit of GPL enforcement over the years.
Here's the video: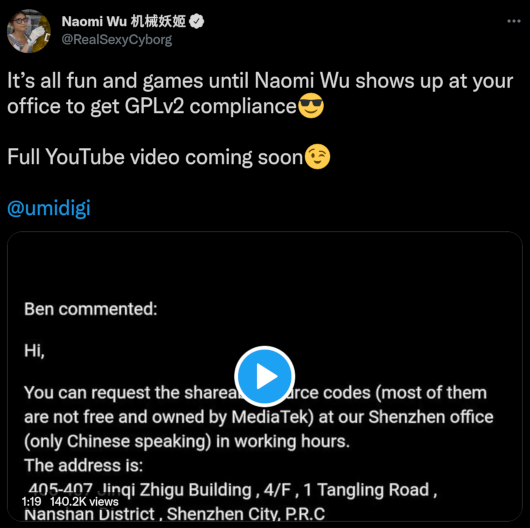 While Wu managed to get to Umidigi's offices in mere days from when the email was sent to push off ptrcnll, she's told that the person who wrote the email, Ben, is no longer with the company.
I look forward to seeing the full video, and have offered our assistance. I'm grateful to ptrcnull and Wu for doing this work and I'm happy to work on GPL enforcement myself, but it makes me wonder: How much could we accomplish if companies did what they were supposed to do? What would it look like if companies were true partners in compliance and encouraged their customers to tinker with their devices? How many people try to make source requests and give up when it's difficult? If we've been able to accomplish so much with copyleft, even in the face of corporate stonewalling, imagine what we could do if we could skip all of these tedious steps and get straight to collaborating.
Please email any comments on this entry to info@sfconservancy.org.