Conservancy Supports Successful Ninth Annual DrupalCamp NJ
by Deb Nicholson on March 19, 2020
Conservancy is proud to have been able to facilitate DrupalCamp NJ for the second year. In this time when so many events are being cancelled, we have a new appreciation for how crucial the in-person events we've already had are for building the free software community. We're glad we were able to support this event.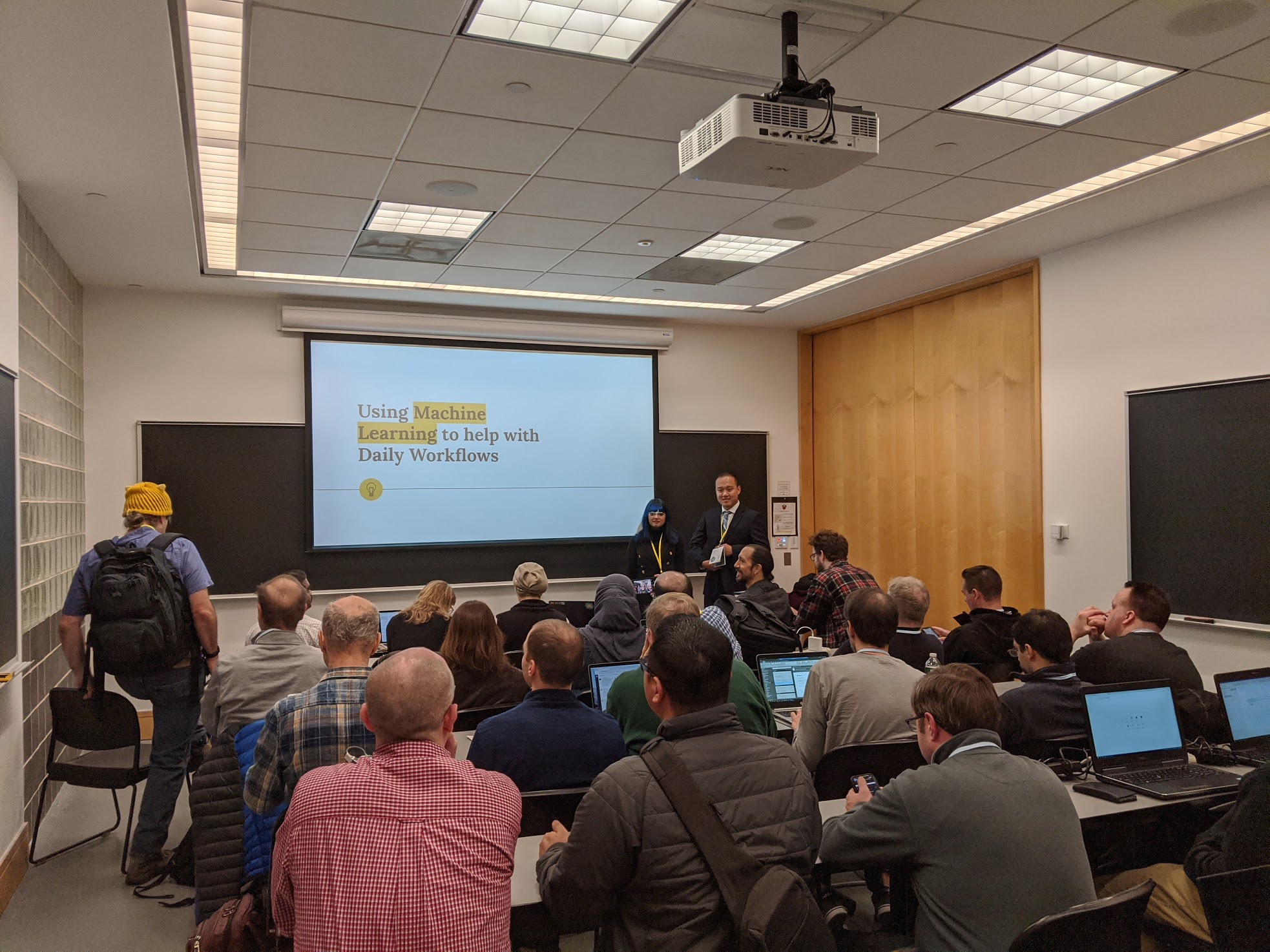 "Using Machine Learning to Help with Daily Workflows" Photo by Peter Wolanin, available under the CC.BY.SA 2.0 License
The 9th annual DrupalCamp NJ was held on the campus of Princeton University. Over 300 attendees came over 3 days to discuss and learn about web development and Drupal, a free and open source CMS (GPL v2+). This year had a 17.5% rebound in the main campday attendance due in part to moving the main day to Friday from Saturday. They also expanded the trainings on Thursday to offer more topics and boost attendance. About 27% of the attendees were new to Drupal, which is higher than the past few years. Drupal has seen overall growth recently as version 8 has matured and been adopted especially for academic and enterprise websites and web applications.
For 2020 the DrupalCamp NJ organizers made a concerted effort to increase speaker diversity and also reduce the environmental impact of the event. Before the camp, they committed to having 25% of the sessions have a speaker who identified as underrepresented or a first-time speaker. To make this happen they went beyond past outreach efforts and hired a consultant to reach out to new speakers, as well as advertising the speaking opportunity in newsletters geared towards a diversity-minded audiences. In the end, they exceeded their goals! See more at https://www.drupalcampnj.org/announcements/session-submissions-and-speaker-diversity. Of the 25 accepted sessions, 10 had one or more speakers who self-identified as a woman (40% of total), and 15 had one or more speakers who self-identified with an under-represented group in tech (60% of total). The also camp purchased carbon offsets and planted one tree per attendee, and reduced the number of give-aways likely to be thrown away.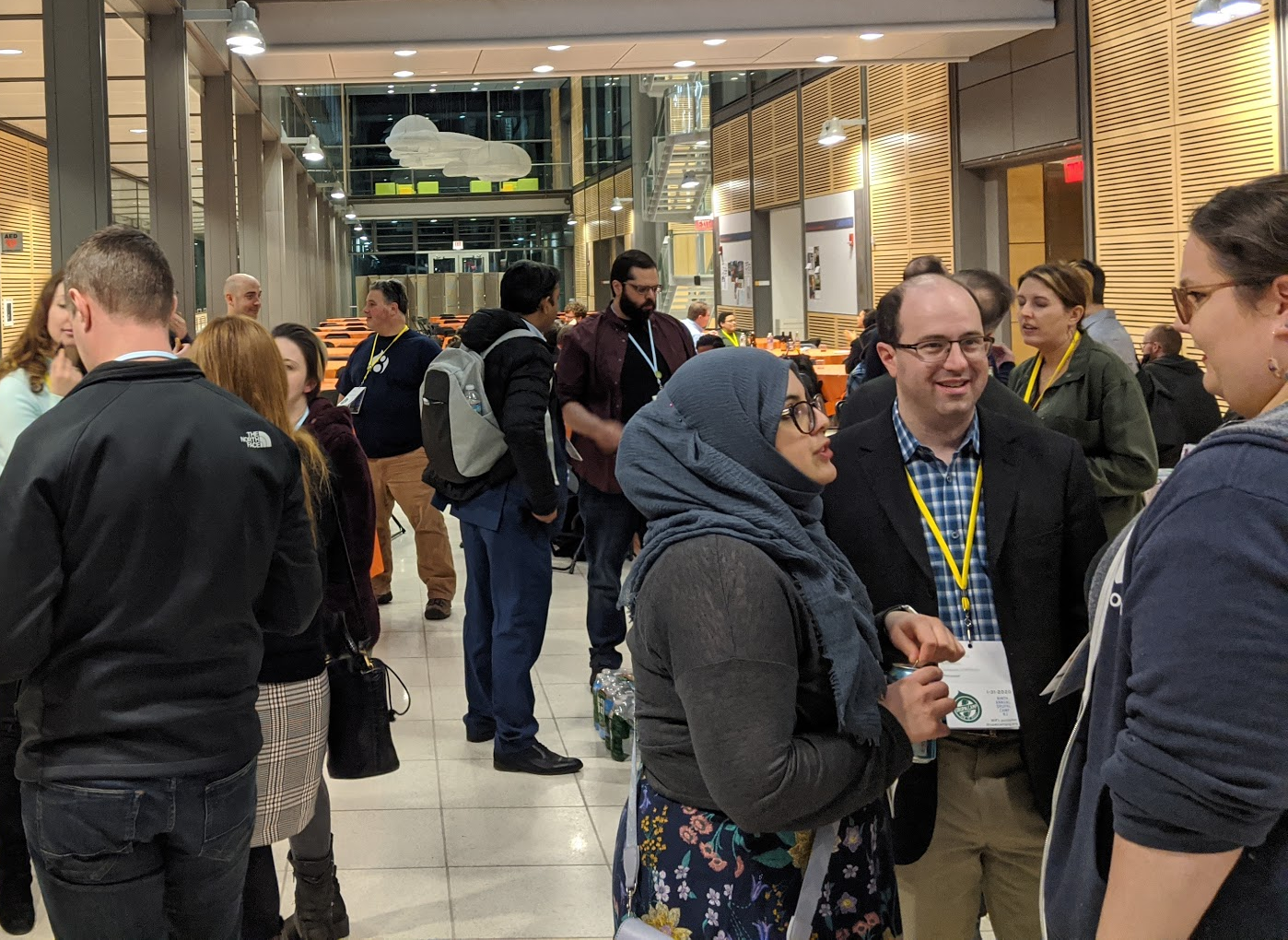 "After party at the chemistry building" Photo by Peter Wolanin, available under the CC.BY.SA 2.0 License
Presentations at the event on Drupal continued to focus on version 8 and the upcoming version 9. The community is still getting comfortable with the technical shifts in version 8 such as a major rewrite to use object oriented programming, dependency management with Composer, integration and dependence on Symfony components, and use of Twig for templating. Other presentation topics included progressive decoupling, voice-based search, machine learning, accessibility, testing, team management, and more. All 25 sessions recordings are available on the DrupalCamp NJ website.
Be sure to save the date for the 2021 DrupalCamp NJ and 10th year for the event! It will be January 21-23 at Princeton University. Follow @drupalcampnj on Mastodon or Twitter for the latest updates!
Please email any comments on this entry to info@sfconservancy.org.