Conservancy Supporters!
by Karen Sandler on April 20, 2015
I just have to share this picture from last week in Barcelona. It was fantastic to see Conservancy Supporters showing off their shirts and by proxy their support of Conservancy's activities. I was so happy to hear so much positive feedback on the VMWare lawsuit, filed by Christoph Hellwig. Last month, Donald Robertson got a round of applause during my LibrePlanet keynote just for wearing a Conservancy t-shirt! When we first launched the Supporter program I wrote about how impressed I was by the caliber of the intitial wave of Supporters, and as you can see from the notable folks in this picture, the trend has continued as we more than double our numbers. You can get yours by becoming a Conservancy Supporter today!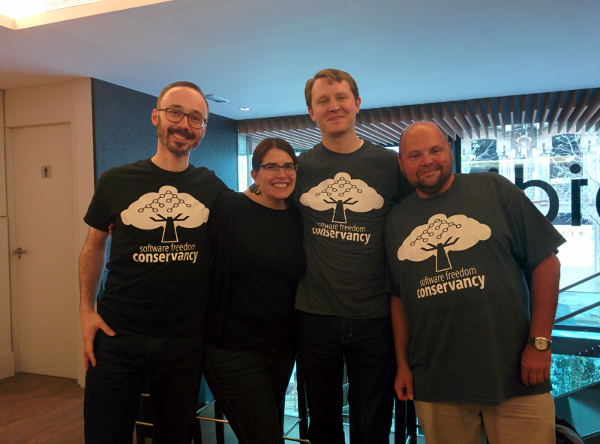 Thanks Stefano, John, and Jim plus Carlo Piana for taking the photo!
Please email any comments on this entry to info@sfconservancy.org.